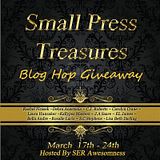 Hey Guys!
My sweet friends at SER Awesomeness are having an amazing blog hop to celebrate Small Press Treasures. Below, for the hop I will be giving away a signed copy of Poughkeepsie, a handmade bracelet, two temporary tattoos and a Poughkeepsie train schedule to one lucky winner. This giveaway is international. Also, I'm giving away more prizes on SER Awesomeness, so please sign up there as well.
In the spirit of small treasures I have a recommendation for you! My publisher, Omnific Publishing, is amazing. They take risks on books that tell a fantastic story and although they have all that a book requires to make it professional and enjoyable, they strive to keep the author's story as close to their original vision as possible. That means the art that you get to read in the final, completed book will not be diluted. Considering I write some really crazy things, I appreciate the hell out of it.
So my recommendation for you is to drop by Omnific and take your pick. There's not a stinker in the bunch!
a Rafflecopter giveaway