Remembering this, we avoid "the boat." We promise BC a trip later because he still loves the boat. So we head to Italy, again. We are dreaming of Fettuccine Alfredo. On our last trip to Italy we fell in love hard with this dish. We arrive to a packed lobby. (We whip out our ADR numbers) In just minutes we are whisked to our table. We are greeted by our very charming waiter. He was delightful. I could only understand 30% of what he said. But it did not matter. When Mom
ordered the Fettuccine, the waiter asked if either of us were pregnant. Well, usually this will tick a lady off if they are not pregnant. But...Put an accent on any comment and it sounds better so we decided not to be offended. He seemed to be asking if we would like to be pregnant
which I guess was supposed to be better. Apparently, the first chick to down this buttery, cheesy goodness was knocked up. So this gives the waiters in Italy the chance to bring up your fertility and loins at lunch. I like this place
Either way we ordered. We got our drinks, food and dessert. And drinks again.(Mr. A loves this place too)
. I order the Fettuccine (of course) Mom
ordered the chicken parm which she liked but not as much as the bite of my Alfredo she shared. Mr. A tried some sort of Italian sampler plate which he claimed was delicious. He also had some sort of Italian margarita which came in a very nice glass and was awful girlie looking if you ask me but then again so is he sometimes
. GC had spaghetti with butter and salt and nothing else on it. What she managed to get in her mouth she seemed to enjoy
. BC had an individual pizza which he said he loved. Then we had deserts, cannoli all around and of course with desert more drinks. We managed to not get pregnant by the charismatic waiter. (Too bad. Mr. A would look so cute pregnant ordering from the drive-thru.) That Fettuccine Alfredo is so amazing. I wish they would make a Yankee Candle that smelled like it. And a perfume. Or even a Bath and Body works scent. I could take a bath in it. Yum.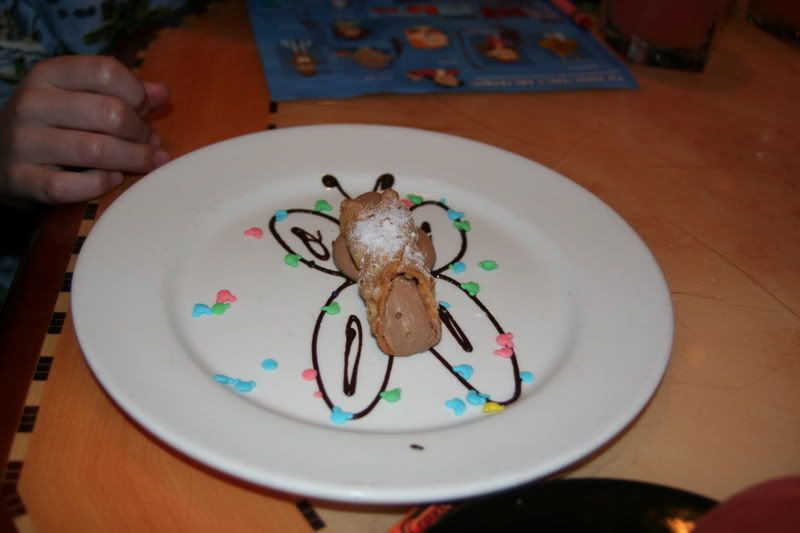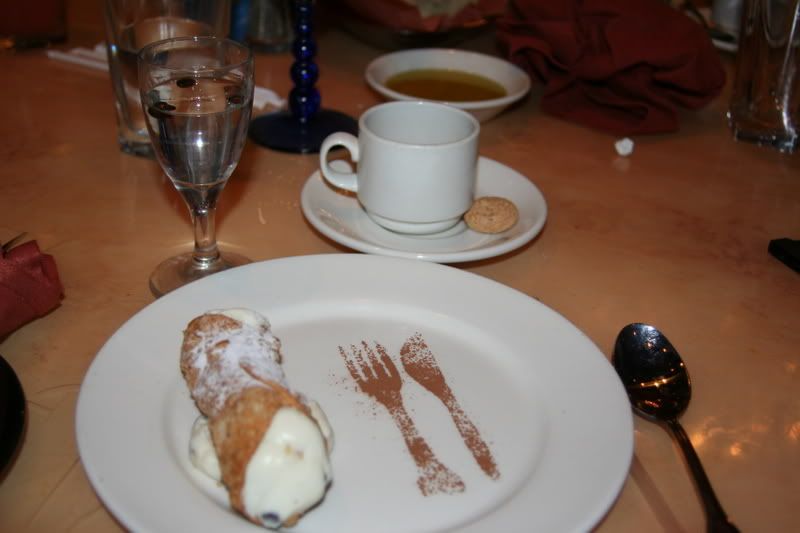 We waddled over to the boat (return trip this time, see how we did that there?) And bid adieu to Grandma
She and Grandpa were heading home because Grandpa had work in the morning. (Thanks for another amazing Day Mom
)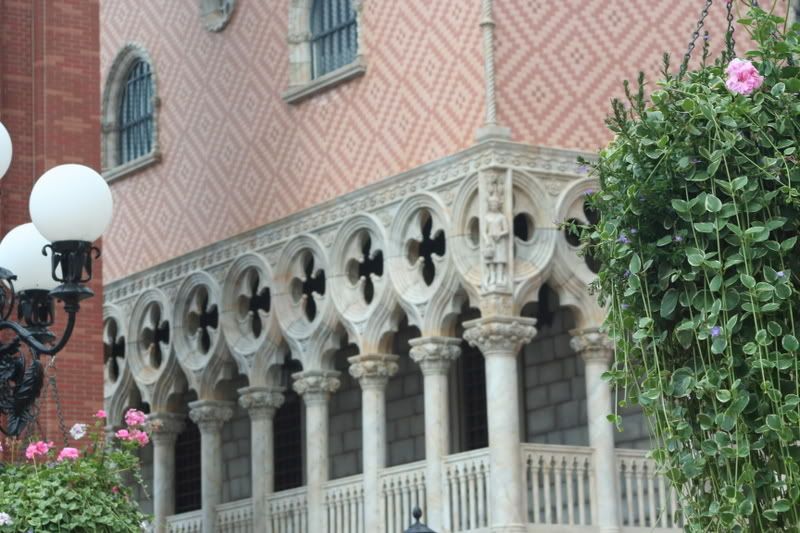 Next up for the Anastasias is Turtle Talk with Crush. Last year this was such a hit we saw it about five times. Each of my kids got to talk to Crush. We videoed it both times. They love watching themselves. If you haven't seen Crush do all the talking you are missing out. It is amazing. Needless to say we were worried. The kids were expecting Crush to talk to them. Now, they are polite and would not say anything if they were disappointed during the show. Then, when they got us alone they would start in. "Crush doesn't love me." GC can even choke out some actual tears. Now, we are not novice parents. We have our ways. (Distraction, hugs, and of course, in an emergency "Do you want to see the Jiggler Jiggle?") So we take our place in the spanking new theater setting. The kids sit up front. And then there is the pushy kid. Way too old to be sitting with the kids. He had the speaker dude held hostage with his begging and gesturing. Obviously, big dude wants some face time with Crush. I look around wondering where the adult is that brought this kid. It was getting uncomfortable for the dude. During the Crush talk this kid is yelling out the answers and standing up to be called on. Speaker Dude and Crush avoid him.
Low and behold sitting and waiting patiently was paying off for BC. Crush calls on "the Dude with the Hawaiian shirt and the backwards lid on his noggin" BC!! I wonder what he will do. BC says he has two questions. I worry. Oh no! Will he be like pushy kid!? It is so unlike him. Crush tells him to "Ask Away." His first question was, "Crush could you please talk to my little sister because she loves you." Awww.
He blackmailed Crush. And thought of his sister first. I don't think what he did is legal
, but so sweet that he came up with it on his own. Right after his question, Crush found GC and she asked her question. Disney magic. We were thrilled for them. They were smiling ear to ear
. We made our way out. The Anastasias toss around the idea of going on a thrill ride. But time is against us. And we're so close. To my castle. We make it back to Innoventions to ponder our situation. While BC and Mr. A played the giant shuffle board game with the trucks, GC played the sweet Disney tag giant video game. And I got to thinking. Bad things happen when I think. We usually end up selling our house (We've had three in 6 years or getting a dog (We've got three of those too). I want to go to Magic Kingdom. But that set up is the fanciest cattle drive in the world. Crowds beyond all reason and imagining. And we would be arriving right around the first parade. I remember with a shiver the last time we faced the mass exit.
* * *
When BC was 6 years old and GC was 3 years old, we were blessed to have my Aunt and my Mother
traveling with us. We had stayed to watch the fireworks the first time we had seen "Wishes." Of course, we had no idea the castle would be attacked during the show and the kids would be asking "Is Cinderella dead?" for the next two years. Ahh "Wishes" Good times. Thanks for that Disney.
Anyhoo, so the kids had whipped themselves into a frenzy and we couldn't get away from the screaming villains due to the crowds and the loudness. So we held them through the trauma (only our kids). Upon the mass exit, The crowds were thronging as only hot sweaty Disney crowds can. We had driven our van to the Magic Kingdom. We had rented a stroller. We had to decide what to do. PS had fallen asleep on my chest. We look at our options. The sea of sheer humanity is a solid wall waiting for the Ferry
. The Monorail line is skinnier and a long snakey mess. We can't see the Pop Century bus from where we were standing, so that must be the short easy line. Mr. A decides to "take one for the team" and board the wall of humanity ferry line.
So we get on line for the bus. The line does not appear long but this is Disney, They are masters of illusion and this one was a doosey. I was holding GC for so long that my right arm locked up and froze to provide her with a chair for her nap for the next 2 ½ hours. I missed that stroller the whole time. Halfway through the wait we get to hear Mr. A's cheerful voice via cell phone telling us that he is finally at the van and don't worry he'll be back to the room soon. At the van! I'm performing another feet of strength and Mr. A is conveniently absent. He is always absent when I need him to actually use some muscle. This would burn me less if he wasn't actually useful WHEN he is around. I thought of this....
* * *
When we moved from one house to another Mr. A proved his ridiculous moose-like strength. He's crazy strong. Our old house was across the street from our new house. After a hard day of moving furniture (and we have heavy, huge furniture, our poor moving helper friends are convinced we choose our bed set based on the sheer weight of it) Mr. A does a last sweep of our house. Lo and behold he finds we forgot to empty the shed! At 11:00 pm by himself he goes back and forth moving all the contents of our shed. As he locks up the shed he looks over to the backyard and sees ....our swing set. It was a super long six legger with lots of accessories. We never did quite get to cementing it down. I almost dropped the baby when I looked out the window to see Mr. A walking across the street carrying the whole swing set across the road above his head. He walked it to its new place in our back yard and set it down with a jarring thud. We have gotten better at moving since then, but I really wish I had had the video camera going at the time.
* * *
So needless to say when holding my chunky monkey 3 year old, having swing set muscles around to help would have been really nice. But he's not there. He's in the van. With the air conditioning on...taking one for the team...He's in trouble again. I hang up the cell phone and resume my locked arm... waiting.
When we were about three busses away and fully entrenched in the bowels of the line, a bus pulls up. Everyone's beyond exhaustion. The bus that pulled up happened to be one of the funky handicapped busses that can lower itself down to make it easier to board. The bus began to board the people that were obviously waiting some time for it. About five turns up the line, a group of men begin booing. Loudly. I look at my Mother
and my Aunt in shock.
"Are they booing the handicapped? Really, I mean we have come to the point in the night where we are booing people who have disabilities because one of every 5 buses is accesible to them and they are finally getting to sit down!!"
I look around wildly. Is no one going to say something?! I can see these are Dads with their young families. I can't move far enough away from my sleeping girl to yell. If she wakes up we have a long time to wait with the screaming. So nothing happened. Just shocked silence. The people boarded the bus. I hated to say nothing so just to let the booers know, on the way off Broadway chance that they will ever read this, If I had not had my kids I would have screamed in my Bronx yell and shamed you. I would have gone up one side and down the other. You...You...
You freaking booers...You would have messed your pants when I was done with you. To the sweet guests boarding the bus, I'm so sorry it happened to you. I am so sorry you could not get to hear my voice shaming the brainless jerks.
So eventually we got our turn on the bus. A gentleman gave up his seat for me and GC. The burst of kindness was nice after what we had witnessed. Swing set muscles was waiting to take GC from me at the bus stop. My arm was locked in that seat position for quite a while after GC was comfy in her bed. It's amazing what you can do when you have to.
* * *
So with all these experiences tossing around in my head. Mr. A and I made the obvious, sensible decision.... We went to the Kingdom.