Chapter solid 6
(PS, this trip report was written back when Angelina's twins were first born! I'm currently writing a new trip report that is in the current time period.)



Ahhh. The last crispy ends of real summer. It's like chewing the fried batter off the non-edible parts of the chicken breast. Yummy. But it won't last forever.

I want to keep my kids from school. I never want to send them back. When they leave for the day it feels like my heart is draining like a bathtub. Nothing but ominous curly hairs left over.


The fall can pound salt, as far as I am concerned. I've bought, no joke 47 boxes of .22 cent crayons at Wal-mart. I can't stop myself from buying the crayons.

A few days before we left for Disney I was folding clothes,
watching the E! channel. There was a news break, regarding Angelina Jolie and her babies.

"We're interrupting your programming to give you an update from Angelina's Doctor in France LIVE!"

The Doctor begins speaking to the reporters in French. The E! channel had obviously not counted on this stumbling block. They continued to broadcast the Doctor without a translator. I couldn't believe it!

After all this time.

Finally.

In High School I decided to take French as a second language. I thought it sounded so chic. Turns out I have problems. With the French. Actually, I can't understand any accented speech whatsoever. If your everyday talking is more spicy than say, Mr. Rogers, my brain puts you on mute. I just watch your lips move.

I can't remember names and suck at memorizing. So this all made French hard for me. I took three years of Regents level French. The only word I knew cold going into the oral final exam was "coqueluche." I thought it was hysterical that our screamingly old text books still had "whooping cough" listed as a vocab word. I was pretty sure that the malady of whooping cough had been vaccinated out of existence in 1913. So I would use it on my friends suffering through French class as a joke.

Really it was my only French joke. Well that and "tamponeux." Which I can't remember what that word translates to, but it was an obvious joke.

Anyway, back to my oral exam. The French teacher pulled me into the hallway. I was so scared. Gosh, I was horrible at this subject. She knew me well enough to speak her part of the conversation in the slowest, non-accented French she could.



Teacher ~"Vous êtes dans le bureau du médecin, expliquer ce qui vous dérange?"



"You are in a Doctor's office, explain what is bothering you?"

(I couldn't believe my luck!)



Me~ "Eh bien, mon mal de gorge."


"Well, my throat hurts"




Teacher ~ "Que pensez-vous est faux?"


"What do you think is wrong?"




Me ~ "Je pense avoir la coqueluche!"


"I think I have whooping cough!"

I wound up getting an A on that oral exam and passed my final because of it. The last day all the French I was hanging onto dropped out of my head like a hot potato. I was done. All done.

I started college and decided to change to a different school after two years. As I was arranging my new schedule all my credits transferred like a dream. Except I was missing one small credit. I needed a second language. And because I had a regents diploma I would be required to take the moderate level French. Even though I had my Mr. Rogers problem and only passed by the skin of my whooping cough-flavored teeth. And moderate French is two semesters. Of course.


So I plunged into the French world. I hired a tutor. I studied all the time. After two semesters I squeaked out with a B. I was proud. Please hold your applause.

(BTW I graduated with a degree in Political science, determined to be a lawyer, until I found out that they scoop your soul out and replace it with an overactive bowel.)

So I had kids. Never touching my French with a stick. Letting it rot.

But Angelina Joile and the E! channel had given me my moment to shine.

I listened intently. I was able to piece together this information



"The mother and babies are good. The babies are eating the cheese. We are trying to stop the babies from eating the cheese."



Well, that can't be right. So that's that. I don't even remember where I was going with this story. I should have saved it and busted out this freaky little mess in the world showcase part of the trip report.

Where was I in the story? Was this the Potty chapter? No, not yet!

We were dressed and ready. To go to the Magic Kingdom. We trudge over to the van. We almost always drive to the parks. Today we pile in and drive to Ticket and Transportation. We got to park in Minnie, we were so close. Until you realize that walking from Minnie takes longer than grabbing the tram. And of course, the kids' favorite ride in Disney is the tram.

We make the time honored choice. Ferry or Monorail? What a wonderful decision to have to make.

Usually, we are ferry fans for the first ride. But, surprisingly, the kids picked the monorail. I think they felt gypped by Minnie Mouse holding the tram hostage.

We settle into our Monorail car. Mr. A snaps away with his camera.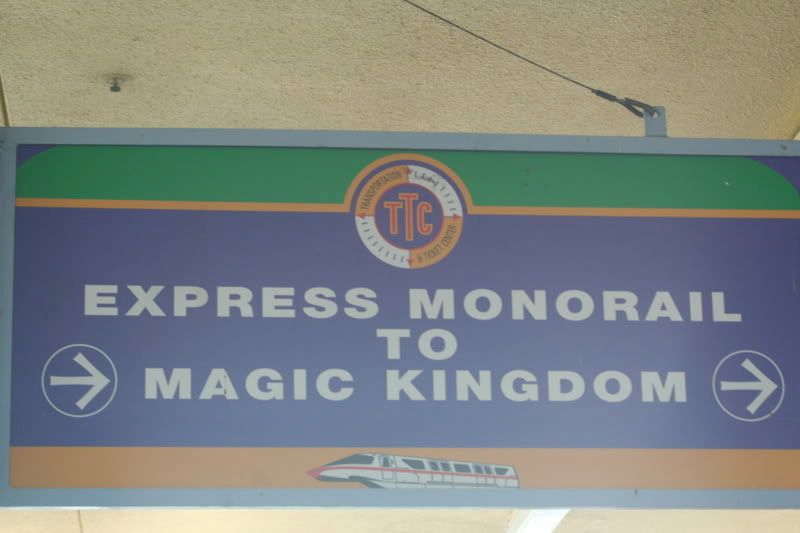 The kids score window seats. And we are off. To my castle.

After getting through security and heading in the early breakfast line, we were there on Main Street. We're rushing now because our ADR's are for 8:30am and it was 8:25. No time to get the dream picture taken (Should have risked it!)
So instead of the photopass guy taking our picture. We took his.

Not nearly as satisfying.
We get seated almost immediately at Crystal Palace. We can see some of our friends, Pooh, Eyeore, but they are just past our table. The waitress tells us to take our time getting our food, they won't be back for a while.
Grandpa regales us with tales of being a character greeter.
Grandpa~ "When I used to bring Piglet here to the Crystal Palace, I used to say, 'Come on Piglet, they're running out of bacon.' boy how he would shake."
Grandpa's got a sick sense of humor.

We all got up to get some food. From our super fantastic DEEP. I could not wait to set BC loose on a buffet. The child, when home never stops eating. He is mostly a meatatarian. We have to cook him his very own steak at home when we make it for dinner. His favorite snack is deli sliced turkey.

He loads up his plate. I load up a plate. I felt a little guilty. There was such a long line at the buffet. The food I wanted was vacant. Should I wait in line for the food that was available? Mr. A had bumped to the front, got what he needed and moved on.

I had my inner dilemma and then grabbed what I needed. Get back to the table. GC wants something else, go back up with her. Should I line jump again? She wants none of the first grouping of food. I jump again. The angst. Oh well.

Get back to the table. BC is sitting all slumped over pouting at his plate. Who is this child? He has bacon? Why is he not eating?

GC is not eating either. All the adults suck down the tasty offerings. The restaurant is very pretty on the inside and our server was full of Disney happiness. She kept coming back to ask the kids how they were doing.

First up for the kids was the parade. How adorable! I was happy BC was willing to march with GC.

Next up Pooh came to the table. GC runs to him and gives him a sweet hug. BC goes in for a hug as well. He's getting bigger, I wasn't sure if he would go for the characters anymore. I should have known better. He's so easy going and always up for fun.

Tigger bounced over. I just love that striped guy.



Piglet waddled over. Grandpa decided to torment his favorite pig.
After snapping a picture, Grandpa said, "Wait, I need to take that one again Piglet, you blinked."
Piglet stood for the second picture. Grandpa is part evil.



Last, was mopey Eyeore. We snuggled him up and wished him good luck with his gloomy day.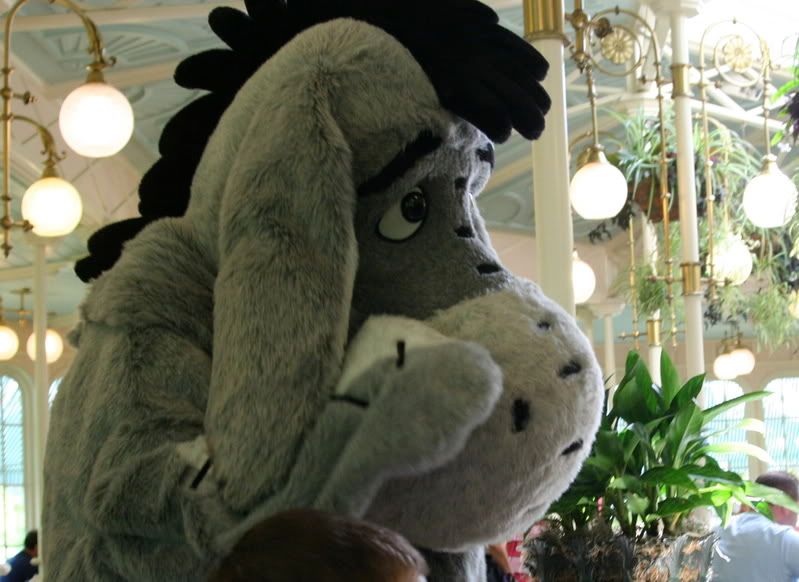 And our first DEEP was over. The kids touched very little food.
"Probably too early for them," all the adults murmured to each other.

Our BBB appointment is for 10:25am, so we head in that direction. We stumble upon the dream show in front of the castle. And This is the first time it happened to me.

I was quite shocked. While watching the show, I looked around me. There was Grandpa, free of cancer, hand on GC's head. Grandma
, finally content, she can hug her grandchildren (when she can physically touch them, she can actually breathe, if they are far away, she's just faking it).

Mr. A, so very happy, in his favorite place in the world. The kids, looking at the stage, enchanted by this show. That's Disney, you can just happen upon dancing animals, princesses and fireworks. So much better than shopping in Wal-Mart for my Crisco.

And yet despite the careful choreographing of making all my dreams come true, I realize Disney is not about what I'm seeing. It is about who I'm with.

The time to see the faces your heart holds dear for long periods of time. No pesky daily grind to take you away. No chores clouding the sweet voices describing something, anything to you with dancing eyes. You can hear them. Your eyes never leave your sons face while they tell a story. You can wrap your arms around your daughter and feel her sharp intake of breath when she sees Mickey and Minnie dancing for her.

I also realize that this year has been trying for the Anastasias. We have faced some things we never thought we would. And we made it out the other side.

So every time the word "

Dreams

" is sung by our favorite characters. I bust a tear. The whole freaking show is about

Dreams

. Mickey is blinking, talking and saying, "

Dreams.

"


More crying. And not that perfect, attractive tear sliding down one cheek like some women (and Ronald McDonald) can pull off.

And I'm going to cry a snorf horfaling, chin dimpling, snot leaking, blubberfeast. In broad daylight. My sunglasses are large.

So I try to contain the cry.

To just my eyes.

I try looking everywhere else but the stage.

No luck. I think the script for that show goes something like this:

Mickey ~ "Believe in your

Dreams

"
Minnie ~ "

Dreams

do come true if you

Dream

really hard"
Donald ~ "I am

Dreaming

my ass off, about

Dreaming

in my

Dreams.

"




Damn it.

BC says ~ "Mom are you choking on a little bit of left over Piglet?"

I hear ~ " Mom are you

Dream

choking on a little

Dream

of left over

Dream

?"

The chin dimpling has crossed over to full lip pout involvement.

The word

Dream

is attached to my tear duct.

Finally, Goofy blows himself up dreaming or something like that and I pull myself together. I grab my dear family.

Dreams

do come true. We are here. Together. And I'm loving it. We head over to where we think BBB is. On our way we found the Fairy godmother.

This Fairy godmother was really bossy and not that friendly. She brushed me off when I mentioned that GC was about to be turned into Cinderella. Which surprised me.

And should've learned me a lesson about the mojo change in the atmosphere. But I'm hard headed and stubborn. I don't pay attention to fates and signs (or bad DIS reviews). I play it my way.

Up next: Mrs. The King brings a little bit of The Bronx to BBB.