Chapter 7

It's actually hard to start this chapter. I feel guilty about it. If you present things to kids in such a way, they are bound to say, "Yes." A few days before we left in the van I called on the off, off, off chance that there would be an appointment in the castle, for the one day that we were visiting the Magic Kingdom, in the morning in the Bibbity Bobbity Boutique.


Lucky me. They had an appointment! Such luck! And they could fit BC in as a "Cool Dude" appointment. I sat the kids down to ask if they wanted to participate. BC shrugs his shoulders and says, "Sure." What a kid. Gosh, it is so fun to be his mom. How many boys would be willing to walk into princess world to get their hair done? I could hug him forever. And I love the way his head smells. How did he get so big? Holding his hand is like holding a giant piece of steak, and yet, he lets me hold it. I have to work hard not to take the beauty of his soul for granted. He's amazing.


GC opens her big, blinky green eyes wide. I explain what the appointment entails. I warn her that she would have to get her hair manipulated. This is a conundrum for my little girl. Who quit dance lessons because being forced to wear the buns pissed her off.


When she was born with a huge head of hair, I rubbed my hands together like Doctor Evil. I happen to love playing with hair. GC's hair grew in long luscious locks, beautiful curls spilling down her back. Every night we had a battle. She would be mad. I would plead. Eventually, she would let me brush out "the glory." The conditioner thick, the spray-on conditioner, detangler, with hands as soft as a butterfly's wings, I'd work out the knots. And every once and a while I would peek at her lovely face. It would be squished up, frustrated with impatience.


That's Why….

I shouldn't have been surprised, but I was. I'd have been less surprised if my dog started singing "Chocolate Rain" on You Tube in a thong. The surprise started in my toes and crawled up my legs all the way to my gapping, open mouth. My girl had snuck behind the couch with a pair of kiddie scissors and thoroughly, patiently cut off all her hair. I found her sitting in a pool of glorious curls that I had loved, but she despised.

Message received.


We marched to the salon and got my girl the shortest version of a bob I have ever seen. The hair dresser was a genius. Able to make the hair that was cut down to the scalp blend in with the longer pieces. I held her in my lap while the hair dresser cut my hair off too. Matching mother and daughter styles. My apology for making her endure the brushing she never liked.

We held hands on the way out. She was right. Short hair looked amazing on her. It grew to about shoulder length, where we have kept in ever since.

She hears my idea about the Bibbity Bobbity Boutique. She considers it. She decides she would like to be Cinderella. Grandma
had provided GC with a wide variety of Princess costumes. I pack all her accessories with our bags.

Back to the castle, we peek around the back of the castle, and find the Boutique tucked in a Nook. I walk up to sign the kids in. I wait, smiling. Ahhh. Disney.


In Disney, the Anastasias are probably the most easy-going guests you can find. We're expecting the Disney attitude from the employees, but we understand that they're humans. We brought two of our own human/employees with us. So I was patient. Pleasant. As I waited at the sign in desk-ish thingy podium. After waiting a good chunk of time for the Fairy Godmothers to handle a problem with the lady in front of me. I checked the kids in. We have a seat, and pick out GC's style. I think it was Diva princess. I looked at her face. Looking for the scissor face. Was she okay? She was glowing and excited. And regal.


A Fairy GodMother in Training (FGIT) called GC back. Another FGIT suggested that GC get dressed. No pressure to buy the expensive gowns. I walked with GC through the hair part to the dressing rooms. GC got excitedly into her gown. As we walk out to get her seated I see she is fighting back a smile. She crawls up into the chair and the FGIT welcomes her. All is going well.



Flashback**

When I found out I was having baby number two, she was planned. I must have taken 16 pregnancy tests. They would be so light, barley positive. I had heard the expression, "You can't be a little pregnant." But it seemed like I was just that, a little pregnant. I went out with a 2 year old BC and bought baby booties and a hat.

I was waiting for the first appointment when the pain struck. In my stomach, the cramping was so painful. And it wouldn't let up. I couldn't imagine what was wrong, but I was so scared for the baby. I remember vacuuming and setting eyes on the booties. Tears streaming down my face thinking, "but I want
this
baby."

I drove to the doctor by myself. Leaving Mr. A to stay with BC. I couldn't imagine a small life could live in the middle of all the pain. The doctor sent me over straight away for an ultrasound.


To see if there was a heartbeat.


Please.


Be here.


The technician found my girl, "There's the heartbeat, strong, healthy."


And I could breathe.


I remember calling Mr. A.

Words fail you when the news is that important, that happy.

"There's a heartbeat, the baby is alive." His voice was overjoyed.


The pain never let up. Sometimes stronger, sometimes lighter. But always there. Between the doctor visits and the ridiculous number of ultrasounds I knew she was okay. Not stressed, judging from her heartbeat anyway. But in the center of this pain? How could it not be hurting her?


I prayed it was only me, please let it only be my pain.


I was on bed rest. The only thing that let up the pain a little towards the end was walking. And that was not allowed. Labor and Delivery knew us well. I walked out of there five times still pregnant. False labor. Then early labor.


I needed to see her.
I wanted her out of that nest of pain.

Again the labor pains started.


I couldn't count how many times I dreamt of the beauty of the epidural. When I gave birth to BC, I had a beautiful epidural. His birth was easy, perfect and moving. I held him first, I cried with joy at the sight of him.


The pain would stop the minute the needle was settled in my spine. I would kiss the anesthesiologist on the lips when the numbness put an end to nine months of pain.


The doctor never told me she had no intention on giving me an epidural. I wanted to have a drug free birth about as much as I wanted to learn how to eat fire through the jiggler.


When we got to Labor and Delivery all my friends were there, joking about taking me to the suite with my name on it. Those poor women. They were so nice to me.


My Doctor was out of state, but traveling back to deliver my daughter. Hours into labor she showed up.

"You're six centimeters, I am going to stretch you to 10."

And God bless her crazy ass, she did.


With every contraction.


If I could have gotten off the bed I would have killed her.

I screamed.
So very loud.
And so very much.

Later, after, Mr. A retold the story to me. I was out of my mind with pain. One of the nurses told me, "You're scaring the other mothers on this floor!"
Apparently, I went all exorcist on her and growled, "Get this thing out of me!" He knew I was in trouble, because I'd never refer to the baby as "thing." When, finally, she was born, she was whisked away by a team of doctors there just for her.

I was so relieved that they got her out of the way so I could finally get up and kill the doctor.


Time passed. Out of the corner of my eye I saw Mr. A smiling. I turned my head to see my daughter cradled in his arms. Miraculously, she was fine. She was doing so good he could hold her. And his smile was from ear to ear.


I was able to snap back from my reptilian brain to my human one.

"Can I hold her?"

Mr. the King looked up shocked, realizing the screaming had stopped.


He passed her to me.


All the worry.


All the pain.


She felt none of it.

She was a little red.
But she was here.
I got to have
this
baby.
The one I wanted.
I was so thankful.

**


I glanced at GC, sitting tall in her chair, hiding that smile. What a fun gift? Taking her to Cinderella's castle for a beauty day!

BC is claiming the heart of his FGIT. He's so charming and sweet. She handles his hair and head like it is a delicate robin's egg. She's making him smile again and again.

GC is in the next chair over. Her FGIT starts to put her hair in a ponytail. She winces, but hangs tough. I made sure she had no knots and was freshly brushed so the experience would be perfect. Her FGIT is not chatty, but not rude. She starts to brush the gel through GC's hair. Everything is going well. Okay dokie. Mr. A is snapping pictures.


Grandma
and I twitter with happiness. The kids are doing great.
BC's hair is done, he has his "Big Reveal" It looks so awesome!!! What a cool hairstyle to walk around Disney in!



It was really cute. He marches out and waits with Grandpa in the waiting room.


GC's FGIT has her pick her hairstyle, color of the wig, etc. She fluffs the blond wig out impressively. FGIT twists it onto GC's hair. She hangs in there and does okay.


I feel relief. All done! The ponytail is in.

We're all set!

Then, FGIT pulls out a handful of bobby pins.


She actually resembles Edward Scissorhands with the way the pins poked ominously from between her fingers. Now if you have ever been a little girl, you know bobby pins sound cute and fun. But really they're little tentacles of the devil.

FGIT jams one into GC's head. Seemingly straight down.
I watch her eyes and see shock.
She had no idea it was coming, facing away from the mirror the way she was. Another pin comes down and jams in. I speak up.

Me ~ "Excuse me? Can we skip the rest of the bobby pins?" I said this real sweet. Nothing like the screaming in the Labor delivery room.


FGIT looked at me with disdain and disgust. Her lip curls up as she delivers this beauty:
"What? No, I have to hold it all in there!" She shakes her head ruefully while shooting me a dirty, chastising look.

I'm taken aback. I feel a slight blush in my cheeks.

Of course.
Holding it in.

There.


Then I think, "Huh?"

Shouldn't she listen to me?
This is my kid?
I sit back quietly. I was being uppity. Pipe down. I'm In Disney for crap's sake.
I watch with my beady eyes as the FGIT jams another pin in GC's hair. She has an entire handful of these stinking things and it occurs to me they are all going in.


I watch GC's reaction to the jamming. She curls her hands into little fists. And steals herself. Gone is the sweet smile she was holding back.

Another pin jams in. She flinches and her green eyes fill with tears. She says nothing, even though I know this is hurting her.

Me ~ "Enough! She is getting ready to cry, you need to stop."

I use my stern voice than. Not loud, but not quiet.

The FGIT looks at me. I think it is the first time she actually sees me. Pretty much nothing is scarier than when my mom eyes are angry.

I turn up the eyes meaner. I can see it dawn on her. She was out of line and should have listened to my request earlier.
She speaks only to GC now.
FGIT~"Is anything poking you?"
She can only nod, trying to keep herself from crying.
The FGIT starts to pull the pins out saying "Well sweetie, you have to speak up."

Me ~" Please just don't poke her with anything else."


She wasn't going to blame this on my girl.

FGIT continued on and GC seemed relieved and still enjoying the experience.

My mother
whispers, "I am so glad you said something."
I felt the same way. I was frustrated that this experience was now filled with tension. I stood up and folded my arms.

I watched the FGIT like a hawk. She teases the wig hair, being very careful not to touch PS's hair.


I sit down. She got the message. She would be gentle from now on.

Next came the make up, the glitter.
The photopass person was called over for the big reveal. GC looked excited.
I compared GC to the other girls in the salon and realized she was missing her face jewels. I mentioned it to the FGIT.
And than I did the thing I felt a little tiny bit bad about afterward. Her excuse for forgetting the jewels was: "I was just so nervous about hurting her!"

And I said.... "I don't blame you."


That's all I said. I probably should've said something nice afterwards, to try and put her at ease. For Pete's sake I used the mom eyes on her. (I liken the experience to seeing the Terminator come at you with one of his eyes dangling out by a string but both still looking directly at you. Scary.) And that's just not fair. She had no idea what she was dealing with and she did turn her act around.


So I should have thrown some nice words in there. But I did not want to give her any absolution.

She spins GC around. Her smile is priceless. She is so very special to herself in the mirror.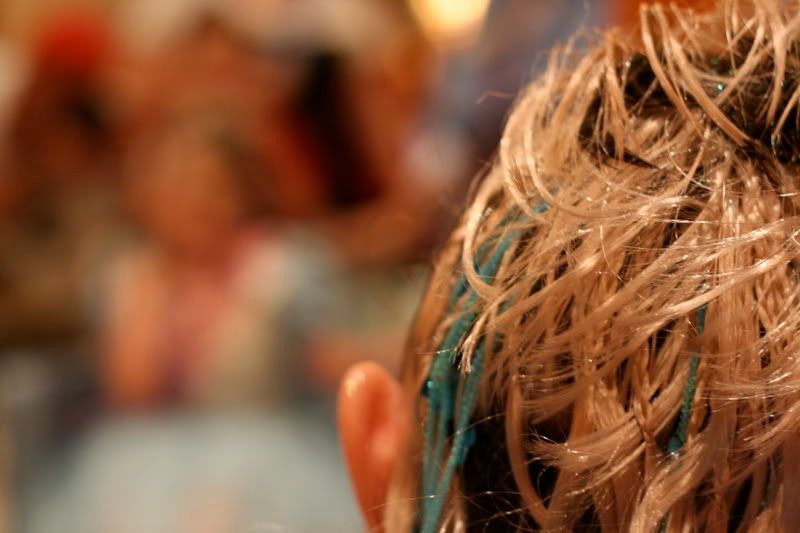 We make a big fuss, pay and leave with our two dolled up kids. The first thing we did afterward was ride Cinderella's Carousel. GC loved riding on one of those beautiful horses as Cinderella.


It is now close to 12:00. GC decides she would like to ride Dumbo
.




The line is not long. Shocking. Mr. A, BC, GC and I all get on line. Soon BC complains he needs to use the bathroom and they leave the line. Now waiting on the Dumbo
ride line at noon in July can be a little bit hot. This particular day was a screaming squelching fireball with lightening. Even the short line was unbearable. GC is in her dress. She starts to tug at it. I promise we can change out of the dress as soon as Dumbo
has dropped us off. I suggest getting off of the line, but she wants to ride.

We get on a yellow Dumbo
. I look at my little green-eyed girl. She's so happy to be on her favorite color Dumbo
. We start to laugh. We can see BC and Mr. A and BC waiting in line from high up.

When Dumbo
grinds to a halt, I take GC to change her dress. She looks adorable in regular clothes and the fancy hairstyle. She's so hot. She begs to go over to the water play spot by Ariel's line. Grandpa agrees to take her as I wait with Grandma
for the boys.

It seems like our day had a bad moment, but it worked out well. We start to discuss our plans for the rest of the day.


Up Next: Princess down, I repeat, Princess down!!